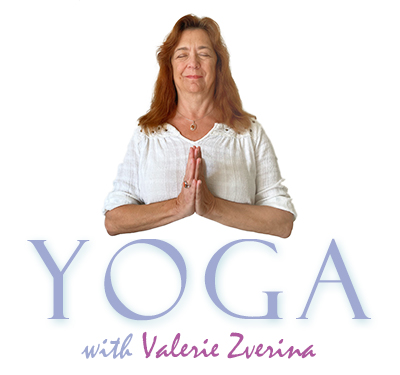 Offering live and recorded online Zoom classes
In-person, individual, or small group lessons
Classes at Dan McKinney YMCA, La Jolla CA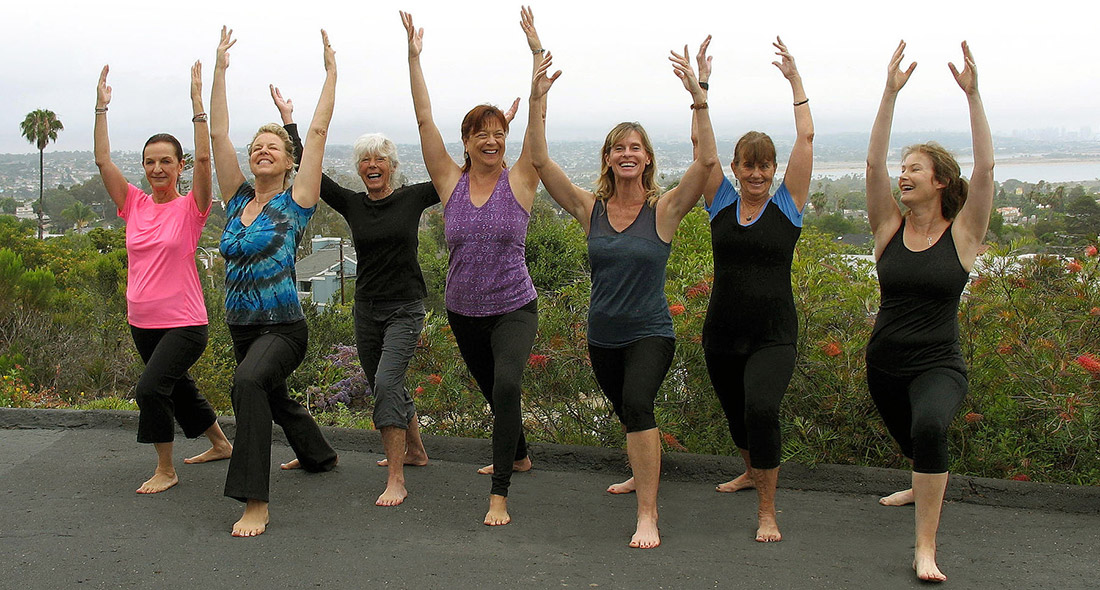 Valerie Zverina is an accomplished yoga instructor with more than 19 years experience

Trained in Michigan and California, Valerie has been teaching throughout San Diego since 2004

Completed a 200-hour Ashtanga teacher training with Jonny Kest and earned her RYT in 2002

Completed a second 200-hour Hatha teacher training certificate with Geri Portnoy in 2004

Valerie's teaching style ranges from gentle yoga through moderate flow

Valerie studies the benefits of yoga as therapy – blending that knowledge, breathing exercises, and meditation into her daily teachings

Trained in Senior Fitness, chair yoga, and foam roller techniques for myofascial release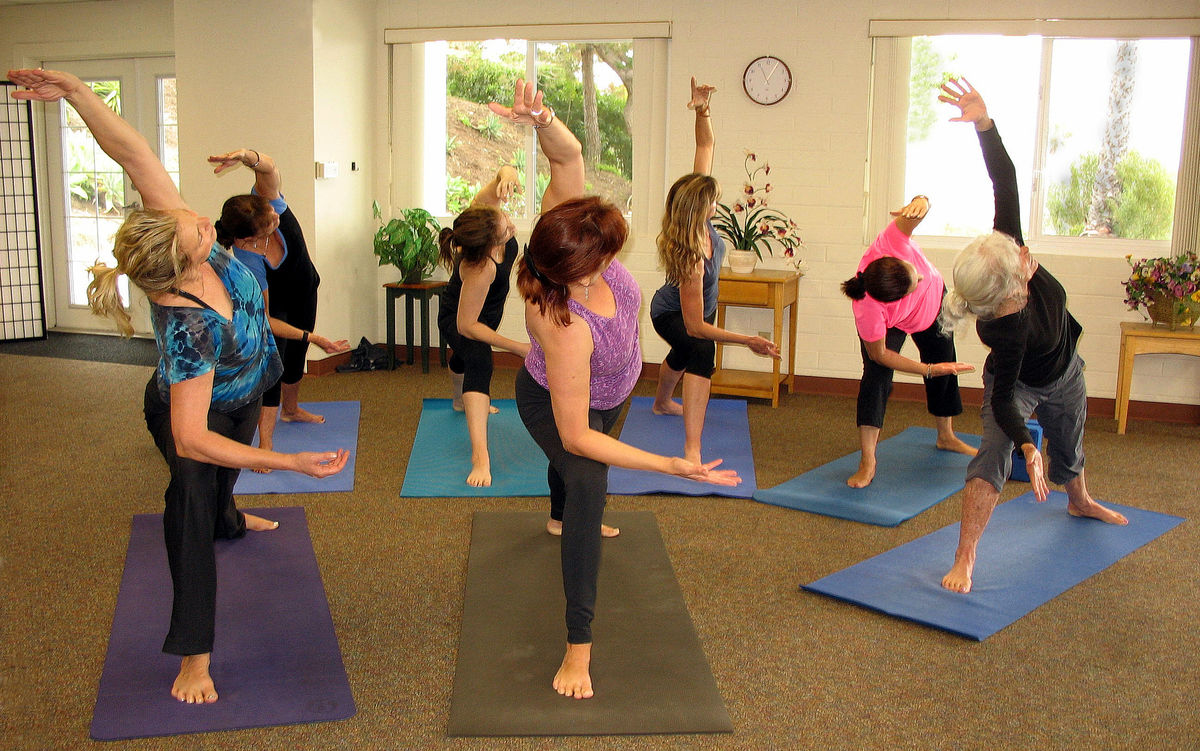 Valerie's Approach
I encourage students to practice in harmony with their own ability and together channel our own wisdom and intuition for support. Often, this challenges us to address this motivation in a new way. As we journey through these new ways, we develop thinking patterns that help to create positive change in our lives. With a seasoned eye for alignment, I help students understand and appreciate the fullest experience of each pose while staying safe and injury-free. We learn that the quiet minutes at the beginning and end of class are as important as the strengthening and lengthening that we get from working a pose. In addition to practicing poses for a stronger body, we use breathwork to develop a balanced nervous system to help support us through a fulfilling and rewarding mind/body experience.
Yoga Class SCHEDULE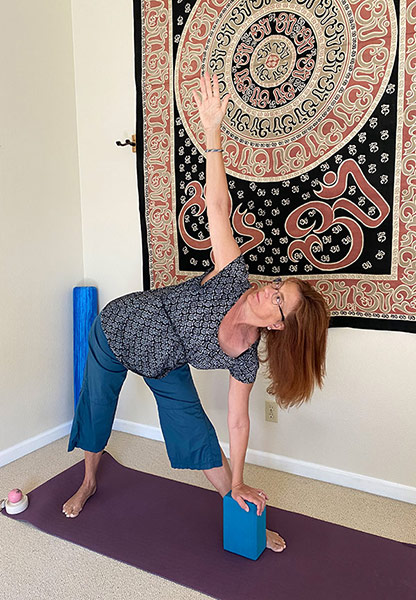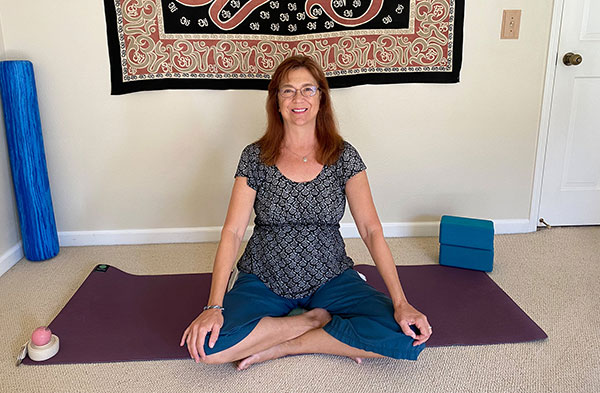 LIVE ZOOM CLASSES
Hatha Yoga:
Tuesdays and Fridays 10:00-11:30am
Restorative:
Wednesdays 10:30-11:45am
Foam Roller:
Every third Thursday of the month 4:00-5:00pm
Classes are Pacific Time and recorded for your convenience if you can't make the live class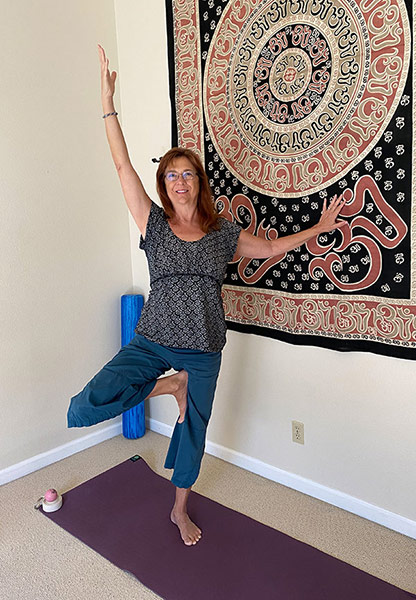 Private lessons at client's location of choice
Small group or individual
Indoor or outdoor
Please contact Valerie for Zoom and Private lessons scheduling and pricing.
In-person classes at Dan McKinney YMCA, La Jolla
Hatha Yoga: Tuesdays and Thursdays 12:00-1:00pm
(Y membership required)
What do Valerie's students say?
Valerie sets up every pose by explaining step-by-step every bodily nuance of the movement so I know how to get myself into the right place. Her body awareness and details are truly amazing. - Nancy P.
It's so nice to do yoga from the comfort of my own home in privacy with such a wonderful instructor. Valerie is an inspirational teacher and brings her professional and insightful experience to class. - Elaine T.
Valerie welcomes suggestions regarding what we would like to work on and incorporates them into a workout that brings attention to every part of the body. I discovered Valerie over 15 years ago and have been with her ever since. - Judythe R.
Valerie is very skilled at how she arranges the progression of the class. We are so happy with this gifted teacher! - Carol S.
Contact Valerie by phone, text, or email